Animal models are still relevant in the pre-clinical stage of drug development (oncology, pharmacology, immunology and neurology). This is because complex interactions between cells and tissues are essential for a reliable assessment of pharmacological action. However, the increasing needs to optimize and standardize the experimental systems together with the necessity to overcome animal models related-limitations, such as ethical issues and specie-specific differences, has led to the development of better experimental practices using complex in vitro 3D tissue models. Furthermore, in vitro 3D tissue models can represent an appropriate alternative to the use of experimental animals as promoted by European Community which encourage "animal-free" research stimulating the development of innovative in vitro 3D tissue models to minimize or possibly entirely replace animal testing.
In the development of in vitro 3D tissue models to better mimic tumor microenvironment and capture its heterogeneity tumor mass needs to be considered a critical factor. The relevance of recapitulating a critical tumor mass is also supported by previous in vivo observations of vastly different outcomes resulting from initiating drug dosing when tumors are different sizes.
"Human tumors are typically much larger than their mouse counterparts, which could affect how preclinical data translates to the clinic. It is also vital to run preclinical trials with a sufficient number of animals in each experimental arm to achieve statistically significant results; ensuring statistical power must be considered a priority for any preclinical study" (Day et al, Cell 2015).
Based on that statement, we could speculate that the above comparison between human and mouse tumors can be applied also between in vitro 3D tissue models and miniaturized systems.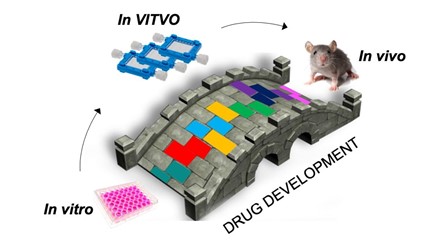 In vitro 3D tissue models should enable to recreate a critical tumor mass in order to better predict the drug action, improving data translation to the clinic. Moreover In vitro 3D tissue models can also contribute to achieve appropriate statistical power thanks to a higher reproducibility and reliability compared to in vivo assays.
Thanks to its sizing, specifically conceived to recreate a critical tumor/tissue mass, VITVO can offer a simple and reliable solution for the generation of a complex in vitro 3D tissue model able to confirm compounds action and to identify the effective dose. VITVO can add valuable information, contributing to build and consolidate the bridge between miniaturized assays and in vivo preclinical models.